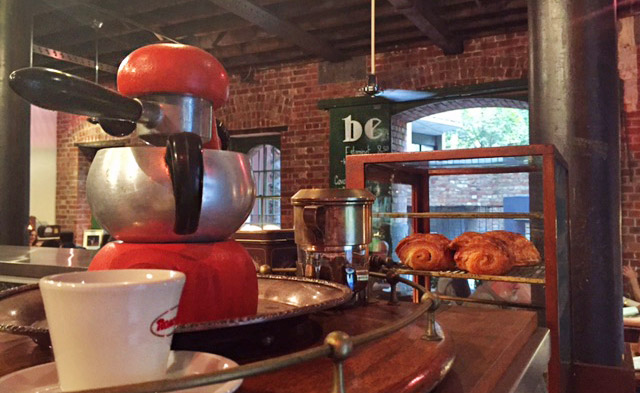 Australian Coffee - a Cuppa Words of Praise
Outside Melbourne's State Theatre, where we're performing, I walk a few blocks down the street, away from the river. I make a right around the Aston Martin dealership, and approach a small coffee shop. Its name is "Bond." I walk in.
"Black. Long Black," I tell the barista. "And iced coffee. Shaken, not stirred."
* * *
We just finished six weeks of performances Down Under. We started with nine shows in Perth and ended with standing-room-only shows in Sydney, with five other Australian cities and two in New Zealand sandwiched between.
I'm going to miss many things about Australia. The beaches. The parks. The abbreviations: barbie, breakie, Brissie. The summer in February. But the one thing I'll miss most is the coffee culture.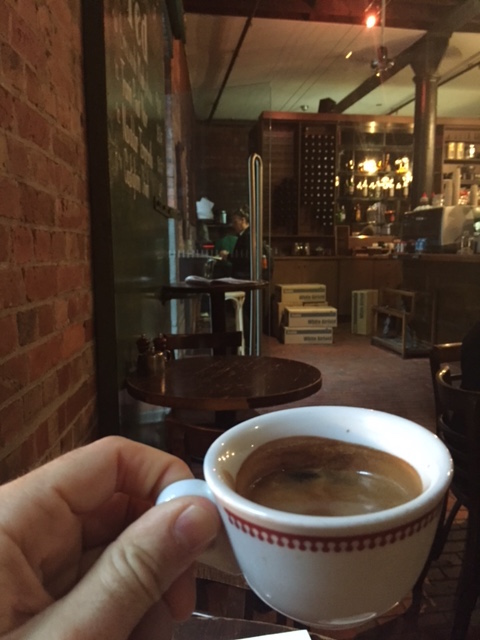 The Bond Store café, a barista at the hotel told me after disparaging his own brew, is the best in the Southbank neighborhood. Tucked behind a redbrick façade, it could easily be an attraction in most cities—but in Melbourne it's just another amazing hipster coffee shop.
And it was the same in Perth. And in Brisbane. And even Toowoomba.
* * *
Sometimes I drink too much coffee. Other times, I drink way too much. During a setup and performance day following a night of travel, I might have one with breakfast, one mid-morning, one after lunch, one before the show, and one during intermission. Australia has been a bit of a high—I've had three cups just writing this sentence.
Don't get me wrong—I could quit anytime. In fact, I've permanently quit coffee many times already. More significantly, I've become selective. No longer do I drink anything vaguely coffee-esque put in a mug in front of my mug. After years of burnt coffee in Styrofoam cups at remote gas stations in the American wilderness… I've come to appreciate a good cup a' coffee—what they call here a "cuppa."
"Life is too short for bad coffee," a sign here confirms.
My current regular drink is what Aussies call a "long black." This is what we Americanos call an "Americano." It's two or three shots of espresso with hot water. Some shops add a lot of hot water, like a grande. Others make it more like a doppio espresso with just a bit of extra water—our conductor Milen Nachev's refreshment of choice between two shows.
This isn't a green tea latte or some blueberry-flavored coffee with cream and sugar. You're basically experiencing pure coffee. And so the quality of beans, roast, and brewing technique really matter. Plus the love infused by the barista.
* * *
Stateside, you might divide our coffee venues into three: most places—from gas stations to diners to Dunkin Donuts—serve drip coffee made with big filters and a glass coffee pot or other vat; some chains, like Starbucks or Au Bon Pain, offer both drip and specialty drinks; and then finally there are the hipster coffee joints. These unfailingly feature a vintage espresso machine, a variety of brewing methods like syphon and cold brew, and at least one majestically bearded barista in a black V-neck.
In Australia, these categories don't exist—I haven't seen a drip machine the entire trip. With the exception of a few chains, all coffee shops are hipster coffee shops.
Even gas stations and 24/7 minimarts have fancy-schmancy espresso machines. The only other place I've seen this is Italy where, at a random gas station, and for a euro, you can get the best espresso you've ever had. Australia, incidentally, has one of the largest Italian populations outside the boot.
* * *
After a weekend of performances, it was on our last morning in Brisbane, before leaving for Toowoomba, that I found the perfect coffee shop. It had the right formula for a morning of productivity: good coffee, unobtrusive music, free wifi, and power sockets. But there was more to this coffee shop.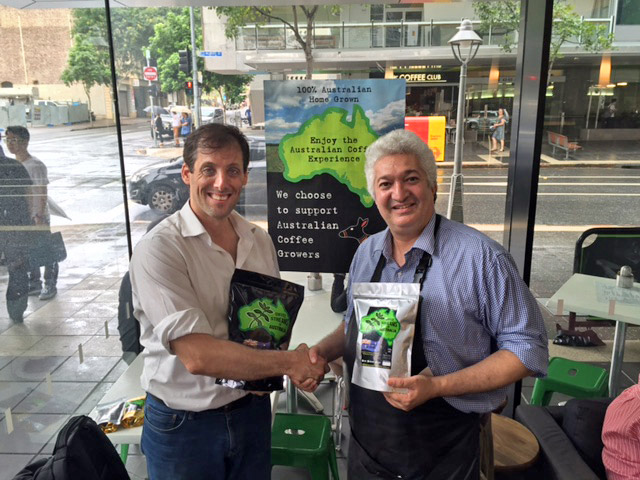 Upon my third and final order of the day, I struck up a conversation with the man behind the register. He turned out to be the owner, George Kalatzis, and you might say he's a rising star in the Australian coffee scene.
His Atomic Coffee shop, which is part of his larger Coffee Streams of Australia, serves Australian-grown coffee. I didn't know they grew coffee in Australia. Did you? Apparently they do, in the hills of north Queensland, for example.
After chatting with him for over an hour, the reason for his success became obvious. It's something we can relate to here in Shen Yun: his work combines a passion for something he loves with filling a need for something people crave.
George didn't set out to control more than 30 percent of Australia's coffee bean production, to supply shops around the world, or to have his endeavors mentioned in Parliament. He loves coffee and he loves helping people. He saw impoverished areas in Australia's countryside with no source of income and no foreseeable hope. And he heard about the exploitation of growers in the developing world and about poor quality beans mass-produced by tens of tons for large corporations. And he decided to blaze his own path.
George's coffee is Australian grown. He believes in karma and that what goes around comes around. He pays the farmers an honest price that cuts into his profit margin in the short-term, but creates gratitude and sustainable growth for the industry long-term. All beans are picked within the last year—they weren't sitting in some hanger for who knows how long. And the beans are green—all energy used is solar.
I had to tell him about friend and Shen Yun colleague Mark Abbott. Mark is also from Brisbane and has been patiently introducing better coffee to ignoramuses like myself. Mark's current home, not far from our Shen Yun headquarters in New York, is always open for a cappuccino visit. And if you've known him for at least ten minutes you've already been invited.
When I told George about Mark, he sent me home with three bags of coffee beans to give him. I'm making sure George comes to see Shen Yun next time we're in town, and brings a cuppa with him.
* * *
P.S. Mr. Seinfeld, if you're reading this blog, you might consider hopping down here for one of your upcoming episodes of Comedians in Cars Getting Coffee. Just remember that their classic autos drive on the other side.

Leeshai Lemish
Master of Ceremonies
March 21, 2016