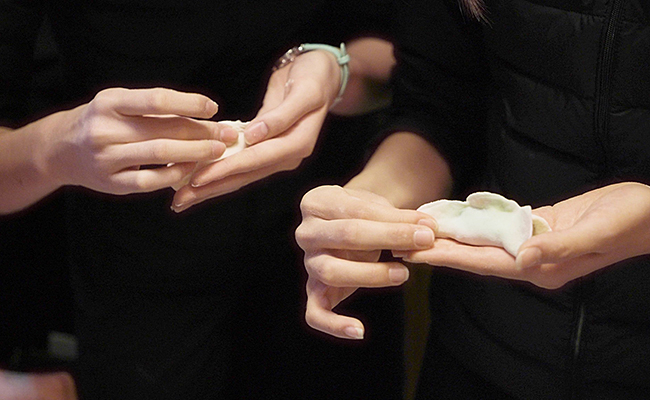 New Year Dumplings: A Tradition Born from Kindness
The Chinese New Year is one of the three most important holidays for the Chinese for reuniting with family. Celebration customs vary across the international community, but in northern China where fending off the brutal cold has been a priority since the beginning of time, people's loyalty to gathering around a table of steaming dumplings is deep-rooted and well-grounded. And the origin of this tradition is a heartwarming story itself:
In the final years of the Eastern Han Dynasty (25–220 C.E.), countless were afflicted with disease and hunger. During this time, Zhang Zhongjing was a physician renowned for his medical expertise as well as his noble ethics. It was said that Zhang was equally dedicated to all his patients, no matter their social status.
One hard winter, the poor people in his hometown were so cold, their ears became frostbitten; most were ill and uncared for. Unable to turn a blind eye, Zhang called his disciples to set up a tent with boiling cauldrons. Using his medical knowledge, he concocted a mixture of mutton, chili, and various medicines. Then he wrapped spoonfuls of the filling in small rounds of dough, pinched them closed into ear-shaped morsels, and dropped them into the big pots to boil. Physician Zhang called these potent bites jiao-er, meaning "charming ear." From the winter solstice to New Year's Eve, he kept his cauldrons bubbling and any man, woman, or child who came was served two charming ears and a bowl of the nourishing broth. Zhang's gift seeped warmth through their bodies, heating them from their core to their extremities. With repeated servings, the townspeople were all cured, even of their frostbitten ears. Thereafter it became tradition to eat jiao-er at New Year to remember the physician's kindness. In time, the name jiao-er became jiao-zi—the modern Chinese term for "dumpling."
In history, Zhang is remembered as the "sage of Chinese medicine." He was also an inventor and writer, and he put his three areas of expertise into great use. One of his works, Treatise on Cold Pathogenics and Miscellaneous Diseases, was organized by later physicians into two books, including On Cold Damage.
Today, most people celebrating the Chinese New Year need not worry about frostbite, but wrapping dumplings together in preparation for the big New Year meal and the dumpling feast itself have become symbols of the holiday, as well as something of anticipation and nostalgia for Chinese around the world. Though nowadays dumplings of assorted fillings can be found on menus in almost every corner of the globe and at anytime, sitting down to a tableful with your friends and family at New Year's holds a whole other significance. And it all began with kindness.
As the Chinese New Year rings in this February 16, Shen Yun's five companies will be celebrating with performances across North America, Europe, and Oceania. If you get to join us, we hope to make your holiday celebrations all the more meaningful. But however you're spending New Year's, be sure to think of your loved ones. As for the recommended evening meal of the day—dollars to dumplings, you've guessed it!

February 14, 2018